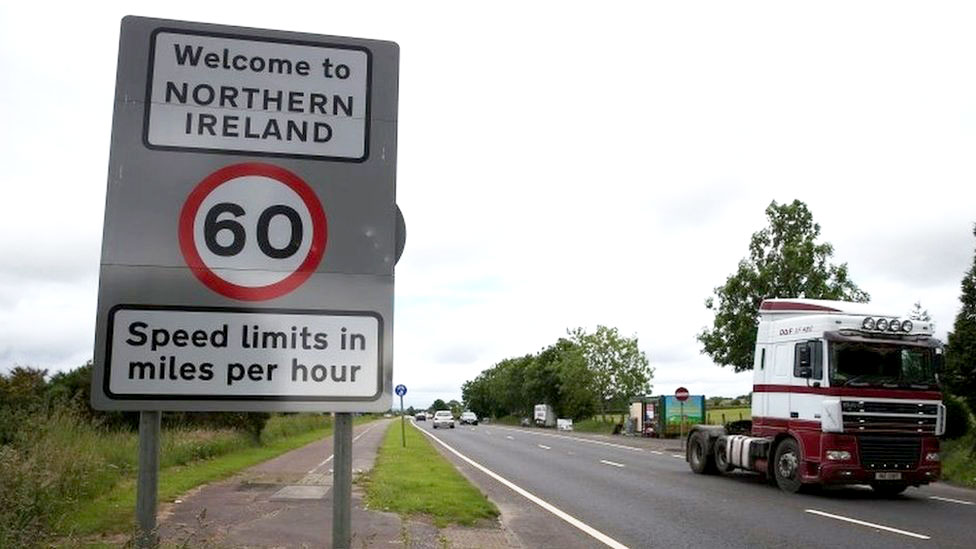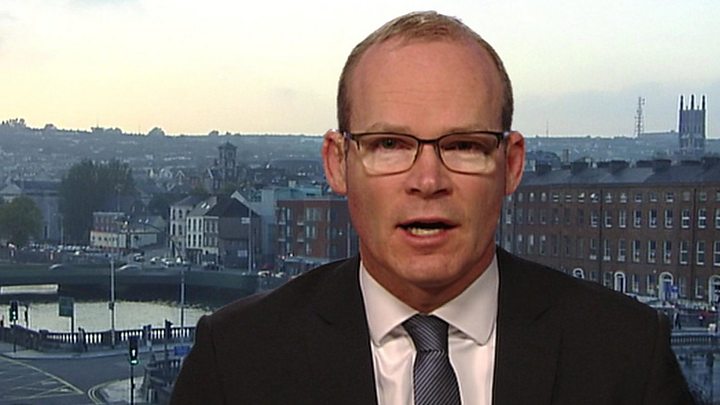 The EU is unlikely to accept the UK's latest proposal for avoiding a "hard border" on the island of Ireland after Brexit, the Irish government has said.
Theresa May has said 80% of firms would face no new customs checks between Northern Ireland and the Irish Republic and others would be simplified.
But Irish Foreign Minister Simon Coveney said he was not sure it would adequately protect the EU's market.
The proposal, he said, was a "starting point" for talks not a solution.
The British prime minister has ruled out the return of physical infrastructure on the border between Northern Ireland and the Irish Republic after the UK leaves the EU on 29 March 2019, insisting that this commitment was "absolutely clear".
But Dublin and Brussels remain to be convinced that this can be avoided after the UK leaves the EU's customs union, unless Northern Ireland continues to abides by its rules and those of the single market.
The "backstop" option agreed by the two sides in December is for Northern Ireland to remain fully aligned with the rules of the customs union – which eliminates tariffs between its members – and the single market, in areas of existing North-South co-operation.
This is unacceptable to the Democratic Unionist Party, on which Theresa May relies on for votes in the House of Commons, and to many Conservatives MPs who say it would create a new border in the Irish Sea and amount to Northern Ireland being "annexed".
'British mistake'
But Mr Coveney told the BBC's Andrew Marr show this remained the default outcome unless both sides could agree other workable solutions to keep goods and people crossing over a "largely invisible" border.
"Our responsibility is to work positively with Britain to explore solutions but if we can't agree solutions then what we have, of course, is the backstop which is a commitment by the British government to maintain full alignment with the rules of customs union and the single market," he said.
Asked about Theresa May's proposal, in a major speech on Friday, to waive customs checks for 80% of firms doing business across the border, he said it could not be taken for granted.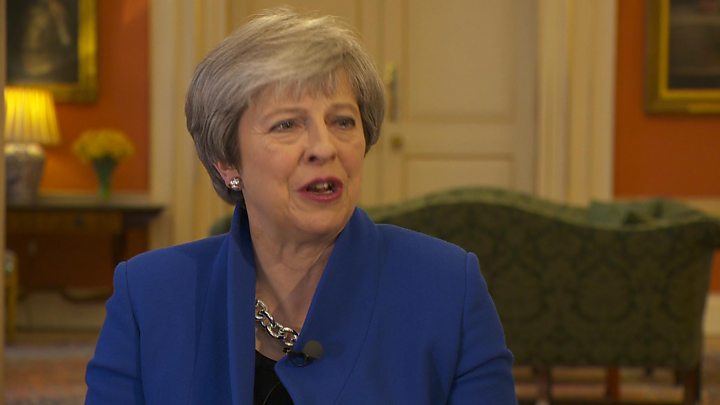 "This is the mistake that is made in Britain all the time," he said.
"When someone definitively says something will be the case from the British government, people assume that is the negotiated outcome. Of course it is not.
"I am not sure the EU will be able to support a situation whereby 80% of companies that trade north-south and south-north will actually protect the integrity of the EU single market," he said.
"While of course we will explore and look at all the proposed British solutions, they are essentially a starting point in negotiations not an end point." he said.
Mr Coveney said Dublin wanted to avoid a hard border with Northern Ireland as much as London did.
But he insisted that for a single market to function "if goods move from one customs union to another there needs to be some checks" unless some mechanism was negotiated to prevent them.
In Friday's speech, Mrs May said the vast majority of north-south trade was carried out by small and medium-sized business whose economic contribution was not "systemically significant" to the EU market but which would be most affected by custom checks and other red tape.
"We would allow them to continue to operate as they do currently, with no new restrictions," she said.
The DUP said the "sensible" idea should be the basis for negotiations currently going on in Brussels.
Speaking on Sunday, Mrs May said she was pleased that Irish PM Leo Varadkar agreed to sit down alongside the European Commission and UK to look at her proposals in more detail.
"We've got proposals as to how we're going to achieve that, now we're going to be able to sit down and talk with others about how we're going to do that," she told Andrew Marr.
But Scottish First Minister Nicola Sturgeon, who wants the whole of the UK to remain in the customs union, said the PM was relying on "technological solutions that perhaps do not even exist".
"One of the most shameful features of the whole Brexit process has been the negligent way that the interests of Ireland have just been cast aside," she told ITV's Peston on Sunday.
Source: BBC