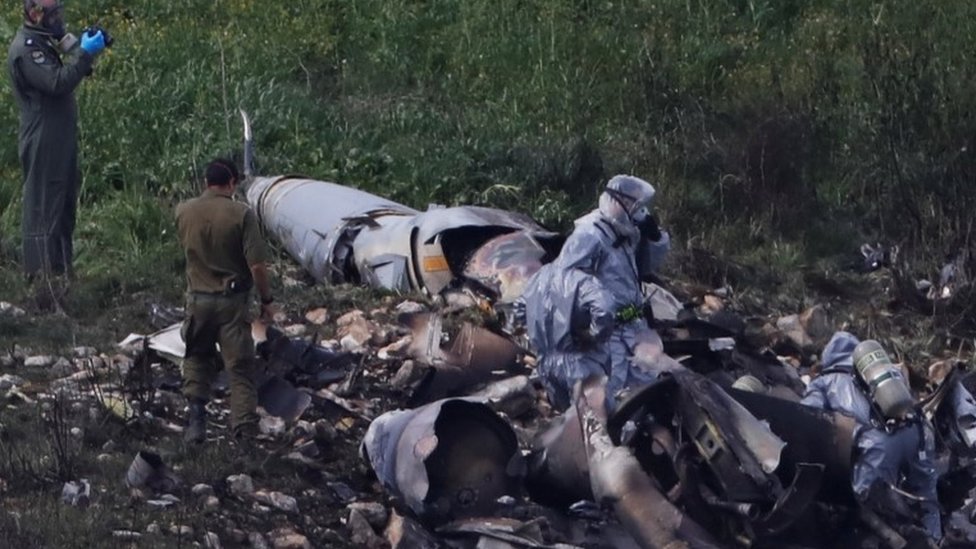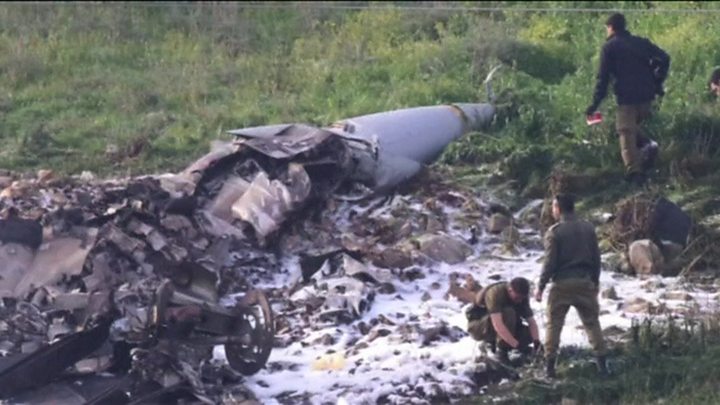 The Israeli military says it has inflicted huge damage on Syrian air defences after one of its fighter jets was shot down during a raid over Syria.
The response was the "most significant attack" of its kind against Syria since the 1982 Lebanon war, said senior Israeli air force general Tomer Bar.
The F-16 jet was hit during operations that followed an Iranian drone launch into Israeli territory, Israel says.
The two pilots parachuted to safety before the crash in northern Israel.
Israel says it responded with a second wave of strikes on both Syrian and Iranian military targets.
Israeli air strikes in Syria are not unusual, BBC Middle East correspondent Tom Bateman says, but the loss of an Israeli fighter jet marks a serious escalation.
It is believed to be the first time Israel has lost a jet in the Syrian conflict.
In other developments:
A Turkish helicopter was shot down as the country continued its offensive against Kurdish fighters in northern Syria. Two soldiers on board were killed, the Turkish military says
UN Human Rights Commissioner Zeid Ra'ad al-Hussein said the past week was one of the bloodiest in Syria since the conflict began in 2011 – with at least 277 civilian deaths reported
How did events unfold on Saturday morning?
Israel's military says one of its combat helicopters downed an Iranian drone infiltrating Israel. It tweeted footage of the incident.
Israeli aircraft then attacked "Iranian targets in Syria", the military says.
Syria's state media say air defences opened fire in response to an Israeli attack on a military base, hitting more than one plane.
The damaged F-16 came down in an empty field near the town of Harduf in northern Israel.
The two crew members ejected and were taken to hospital, one of them "severely injured", the Israeli military said.
What did Israel do next?
Israel launched a second wave of strikes in Syria. Eight of the Syrian targets belonged to the fourth Syrian division near Damascus, IDF spokesman Jonathan Conricus said.
All the Israeli aircraft from this sortie returned safely.
"We are not looking to escalate the situation," he added.
Syria and its ally Iran deny that the drone entered Israel. Russia expressed "serious concern" over the Israeli air strikes and called for all sides to show restraint.
What is the Iranian presence in Syria?
Iran is Israel's arch-enemy, and Iranian troops have been fighting rebel groups since 2011.
Tehran has sent military advisers, volunteer militias and, reportedly, hundreds of fighters from its Quds Force, the overseas arm of the Iranian Revolutionary Guards Corps (IRGC).
It is also believed to have supplied thousands of tonnes of weaponry and munitions to help President Bashar al-Assad's forces and the pro-Iranian Hezbollah, which is fighting on Syria's side.
Tehran has faced accusations that it is seeking to establish not just an arc of influence but a logistical land supply line from Iran through to Hezbollah in Lebanon.
A powerful new element
Analysis by BBC's diplomatic correspondent Jonathan Marcus
For years Israel has been striking at weapons stores and other facilities in Syria with a single goal – to disrupt and, as far as possible, to prevent advanced Iranian missiles being delivered to Hezbollah in Lebanon.
Syria has often been the conduit for these shipments, but the changing balance of power there, with the survival of the regime of President Bashar al-Assad bolstered by Iranian help, has introduced a powerful new element – a direct Iranian role in the crisis.
A more confident Iran is alleged by Israel to be setting up bases in Syria (whether for its own or its proxy Shia Muslim militia forces is unclear).
But it is also alleged to be developing missile factories, both there and in Lebanon, to make the supply lines to Hezbollah less vulnerable.
Israel's campaign to disrupt missile supplies is becoming ever more complex.
And Iran risks becoming a direct actor in this conflict, ever closer to Israel's own borders.
Source: BBC